The Secret Pharmacy Master Plan (just between you and me)
It was not but just a few years ago, jobs for recent pharmacy graduates offered competitive salaries, a signing bonus, and a choice of several locations from which to work. Recruitment events brought many jobs and residencies were spread between just a few graduates; the demand was greater than the supply.
As the 'baby boomer' population continued to age and the clinical pharmacy movement grew, naturally, universities responded by adding new programs and expanding class sizes. The number of graduates has almost doubled since 2002, to approximately 15,000 today. Many states have seen significant increases in graduates in recent years, but perhaps the best example is Tennessee. It's gone from having one pharmacy school in 2006 to six today.
Unfortunately, the recession made those with jobs reluctant to give them up. Also, the role of the pharmacist has continued to grow to care for an aging population, but so have others such as nurse practitioners and physicians' assistants. Subsequently, pay has remained stagnant (and in many cases, lowered), the signing bonus is now the exception to the rule, and pharmacists must be willing to commute greater distances. Recruitment events still exist, but jobs and residencies are fewer and spread between many more graduates; the supply grew greater than the demand.
As the pharmacist job supply steadily grows, demand can take one of three paths: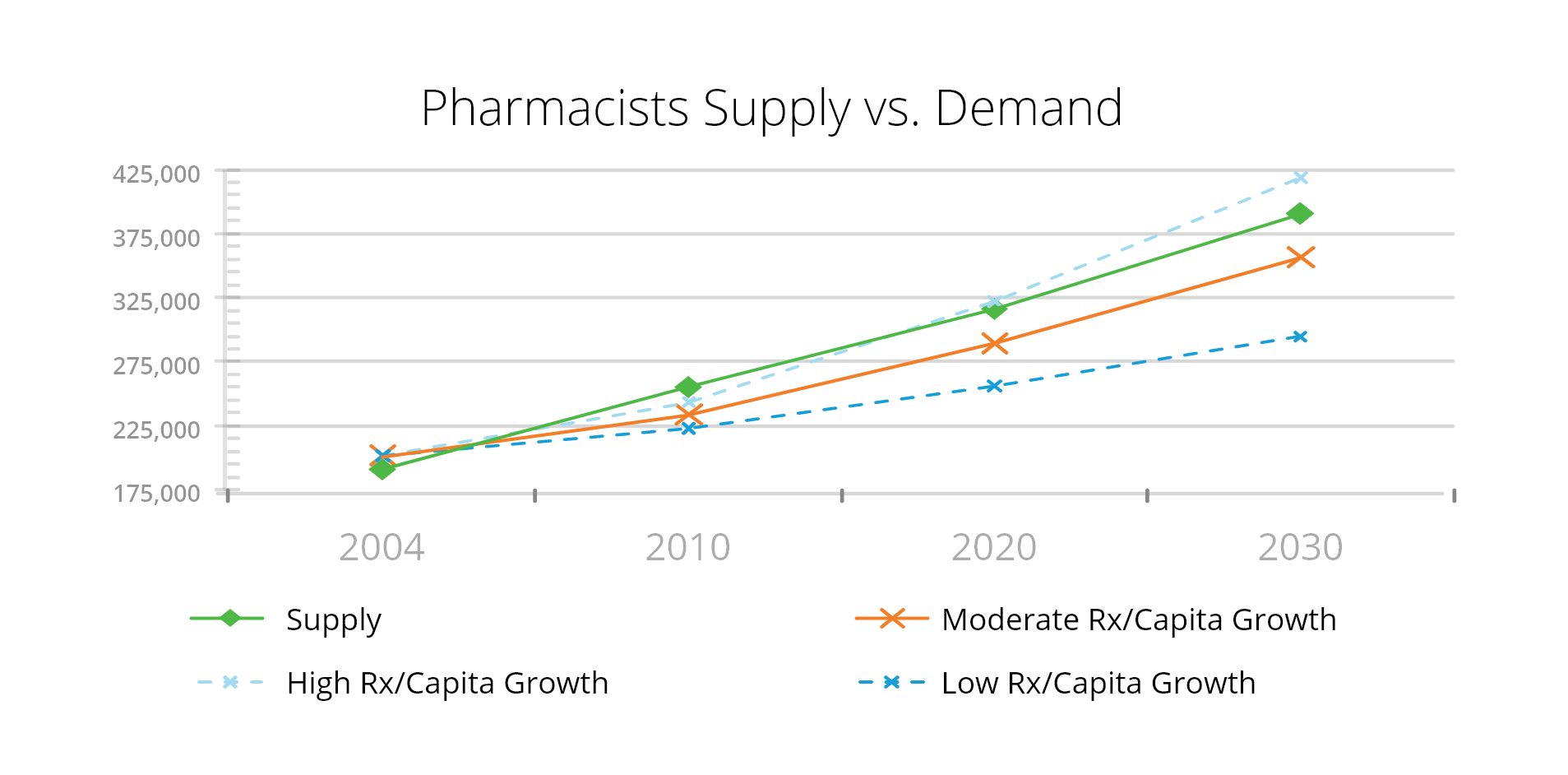 Now, for the good news: demand appears to be on the precipice of high growth. The recession is well behind us, and the role of the pharmacist is evolving towards more responsibility for patient care. One can look to vaccinations as a timely and relevant example. Physicians didn't readily give up vaccinating, but our collective efforts over time demonstrated our ability to administer them and the benefit to the patient. With a national shortage of general practitioners, our clinical training can prove invaluable in many other similar ways.
It's impossible to go to any pharmacy conference without seeing countless posters demonstrating the value of the pharmacist in new, uncharted territories like the emergency department or pain management. It's well documented that hiring more pharmacists reduces cost and improves quality, but, we must do a better job to advertise what we can do to physicians, administrators, and patients.
Pharmacy is the world's second oldest profession (we won't discuss the first), but the clinical pharmacy movement is only about 50 years old. It's up to us to define it, and if done right, we'll look at vaccinations as one of many jobs traditionally handled by primary care providers now handled by the pharmacist.