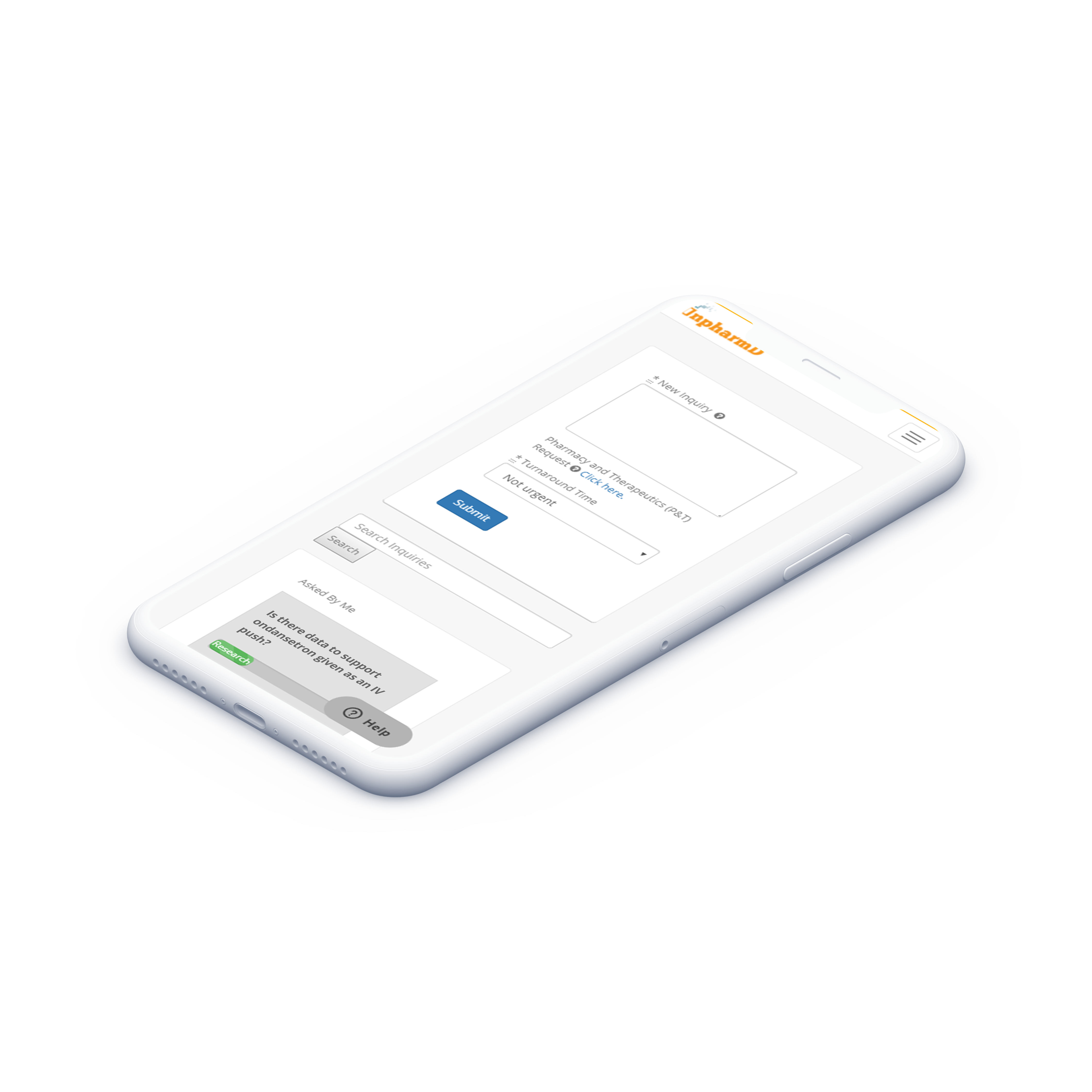 Tailored, on-demand,
digital drug information
Ask any clinical question, receive a custom literature summary.
Get Started Free
What is InpharmD™?
---
Literature searching is tedious. InpharmD™ is here to help.
Ask any question, anytime, via website or app, on campus or off, and receive an up-to-date, real-time, customized summary of the available published literature.
21.8 million research studies
InpharmD mobile application
You
Average hours saved per literature search
Average journal articles summarized per literature search
Estimated improvement in healthcare decision-making
What They're Saying...
Read some reviews from our users below:
Huge time saver with thorough responses.
A wonderful resource, even as a second opinion. We do not have a DI center and I have no other way to obtain the information otherwise!
Appreciated the user-friendly app and quick responses straight to email.
The large amount of articles summarized into a reader friendly format is the most useful aspect.
The most useful part is the vaccination guideline information.
Very quick turnaround times and thorough responses.
Comprehensive answers that I got back quickly, great smartphone app. Keep doing what you are doing!
Received quick answers without navigating evidence, literature review always include quality data.
Very helpful response! Certainly helped working a patient who relies solely on ibuprofen for pain control.
Having trouble finding online access to peer reviewed journals? Use InpharmD.
Was able to simply type in a request and received an answer quickly.
Will never do another lit search again. This is GAME CHANGING!
The best tech I've seen presented in three years on the Med Exec committee (Chair, Dept of OB GYN) at my hospital.
InpharmD continues to be an excellent source for evidence-bases answers to DI questions!
Very useful resource, questions get answered quickly.
Does an excellent job, provided timely answers to clinical questions related to pharmacy.
Easily accessible and provides answers with supported evidence.
Extremely user friendly and provides concise information.
Helpful to find concise information.
Insightful and interactive and way better than the traditional drug information that I used to use.
Very informative and easily accessible.
Very useful, helped with drug interactions and side effects.
Links conclusions from various studies and provides a rapid response to questions.
Provided excellent information.
Provided evidence based information with up to date guidelines for practicing physicians.
Provided evidence based recommendations to questions.
Provides excellent explanations about drug uses, drug side effects, and drug studies.
Provided quick answers with useful information.
Provided updated, scientifically supported data.
Provided useful drug information and comparisons.
Helped avoid the grunt work of looking things up myself and provided information from journals that I do not have access to.
Saved time from researching and summarizing the literature.
Provided breadth and depth of information for each question.
Provided concise and detailed information.
Provided precise and quick responses.
Saved time in excluding computer search dead ends. Answers contained good details with citations.
Assists in our research and is a great way or us to get an answer to a medical question without spending an average of 2 hours researching UptoDate or PubMed ourselves
The most useful database! It provides the most practical answers to questions.
The response that I received was just what I needed and done very quickly.
The review of evidence provided is excellent.
The tables provided from the studies used to formulate the responses are very helpful for review.
Was bragging about InhparmD the other day while on vacation — was blown away at how fast and thorough the response was.
Previous
Next
An excellent response and very timely, really impressed.
A must have resource for evidence based medicine!
All information provided is up to date.
All of the answers provided were very helpful and were shared and discussed extensively on rounds. I regret not using this valuable resource earlier.
Answers are evidence based and help make clinical decisions. Quick turn around time for some urgent questions.
Answers clinically relevant questions with quick responses.
Gives me the ability to have a second opinion on topics of concern.
Very thankful to get to use this. Keep up the good work!
Previous
Next
Get started today!
Sign up for a free trial & start searching right away, or schedule a quick demo so you can see how InpharmD™ can help you.
Get Started Free
Schedule Demo